INSTALLING A PRETRAVEL SCREW IN A REGULAR RUGER TRIGGER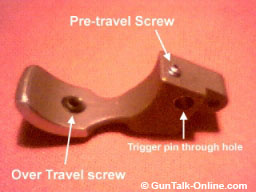 The above picture show the screw location in a old style Volquartsen target trigger. This information can also be applied to adding a Pretravel screw to a Ruger factory target trigger too. These triggers may have an over travel screw installed in a similar location in the trigger, only they're placed above the trigger axis pin.
Here's a picture of 2 triggers with the factory over travel screw (above the trigger axis pin hole) and a pretravel stop screw installed (under the trigger axis pin hole):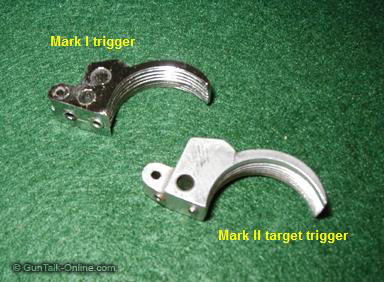 Here's the installation procedure-
There's really not much to it. You just get a 4-40, "3/16" inch long Allen screw and tap the trigger mid way between the pin through hole and the bottom of the trigger's front face with a size 4-40 tap. I tapped mine with a #43 twist drill (a #42 will work also, but give you less metal for the threads). You can also can use 6/32 x 3/16 screw with a 6/32 tap and a 7/64 drill but be careful not to get into the trigger axis pin hole area. The Pre-travel screw must be installed below the trigger through pin hole. A screw installed above the trigger pin through hole will adjust the over-travel - this is the screw that the factory target trigger has installed in it.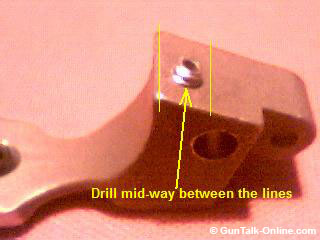 The screw can be adjusted to take the slack out of the trigger before it engages the sear. This will shorten the Mark II's trigger pull considerably. You will need a little bit of slack (only a very little) to leave room for the disconnector to reset during sustained fire operations. The trigger will not operate repeatedly if its not there. The pre-travel screw can be a pain to adjust because you'll have to completely remove the trigger to do it. You can use this procedure to assist with trigger removal
http://www.guntalk-online.com/detailstrip.htm#trigger
However, once you get it adjusted correctly the feel is worth the wait. I used a little blue Locktite to keep the screw from moving by recoil. The screw uses the trigger slot face as the primary surface for the adjustment and will keep the trigger from returning all the way back to the forward most position. Good luck.
R,
Bullseye
Originally Posted on Mar 9, 2003, 10:42 PM at
http://www.network54.com/Forum/52578/me ... avel+screw
This procedure also appears on
http://www.1bad69.com/ruger/pretravel.htm
where it was reproduced and posted by Yzguy with my permission.