It took me years to understand that brushes and patches should not be dunked into the bottle of Hoppes #9, as this will introduce dirt into an otherwise clean gun, and lead to fine scratches in the interior of the bore.
So I was a bit slow on figuring out that I needed to dispense Hoppes #9 from the bottle, but I worked out a good way to do so.
Instead of removing the foil seal that Hoppes uses on the bottle as I had done in the past, now I just poke a small hole in it, close to the edge. - It makes dispensing Hoppes by the drop very easy.
Click Image to see it larger.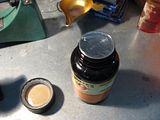 I should have thought of this a decade or two ago, it works great. Also works on plastic bottles of rubbing alcohol. If you need more than a few drops, just squeeze the bottle and it will squirt.